Víctor Manuel Guízar López/Ginebra, Suiza
The times have been left behind when culture and business travelled on different paths. Thanks to the increase in global trade, a product of globalization, as well as the boom in the exchange of digital contents due to new technologies called creative or cultural industries, there is access today, as never seen before, to new business opportunities and new global markets. Their influence in different spheres is growing, as well as its ever-increasing economic relevance: the participation of these types of industries in global markets during the 2000-2005 period had an unprecedented annual growth of approximately 8.7 per cent.1
But, what are cultural industries? Why are they so important?
For the United Nations Educational, Scientific, and Cultural Organization (UNESCO) cultural industries are "…those that combine the creation, production, and commercialization of contents which are intangible and cultural in nature.These contents are typically protected by copyright and they can take the form of goods or services."2
Therefore, when we refer to cultural industries, in many cases, we refer to a series of activities that are developed based on original, literary, and artistic creations3 protected by copyright. For the United Nations, these industries are a source of development, understood not only in terms of economic growth, but also, as a means of access to a satisfactory intellectual, emotional, moral, and spiritual existence4. Even more: their international dimension gives them a determining role for the future in terms of freedom of expression, cultural diversity, and economic development.5
The cultural industries, undoubtedly, have the virtue of being generators of important cultural and economic benefits. 
Regarding the latter, let us look for example, at what happens with one of the most appreciated cultural expressions: music. Music can be recorded and interpreted countless times, repeatedly generating economic benefits as of a single original creation. Music can also be incorporated, in turn, to other audiovisual works (movies, TV programs, etc.), multimedia works, and it is used, with growing frequency, in different electronic devices. Music can generate, in each exploitation modality, important economic benefits including royalties in favor of authors, interpreting artists or performers, and phonogram producers.
Another symbolic case is that of audiovisual works, such as movies. Movies tend to be conveyors of social, cultural, and educational values; they amalgamate different artistic contributions that turn it into a complex artistic-artisanal-industrial work protected by copyright. It is also a work that can produce generous economic benefits throughout is creative process, as well as in each of its different exploitation modalities: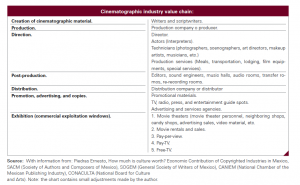 As can be noticed, cultural industries – besides being conveyors of values and identity – produce an interesting value chain from which not only the holders benefit, but also, other economic agents involved in the process of creation and commercial exploitation of works.
The relevance of cultural industries has attracted an everincreasing deal of attention of governments and international bodies, setting a growing trend to quantify the real value that these types of industries report to economies. The World Intellectual Property Organization (WIPO) has, in this sense, sponsored different studies that reflect interesting data. For example, there are cases where in an economy a higher growth index in these industries has been observed compared to the rest of the industries; cases where cultural industries surpass industries traditionally considered "leaders" in some countries; and also, cases where cultural industries linked to the digital revolution are reporting a particularly rapid growth. Especially valuable nowadays is the generous contribution of these industries to employment in various countries. The WIPO study indicates, for example, that in the case of Mexico, these industries contribute 11.01 per cent, in the United States 8.49 per cent, and in Canada 5.5 per cent.6
The UNCTAD, in turn, highlights the increase of creative goods' exports in developing countries, which have almost tripled in a period of only 10 years: from 55,900 million USD in 1996 to 136,200 million in 2005, China as the main exporter; and, especially, the value that creative industries have acquired in certain countries, such as software and movie industries in India, digital animation products in Korea, and television in Mexico.7
The cultural industries, without a doubt, will continue giving plenty to talk about. Having sound data regarding their contribution to national economies is a tool that well used, could be extremely hepful for the design of effective public policies that promote interest in those sectors, and that align them to the interests of society, to benefit economic growth and cultural development.
1 Fuente: Conferencia de las Naciones Unidas sobre Comercio y Desarrollo (UNCTAD), comunicado de prensa UNCTAD/PRESS/PR/2008/003/14/01/08.
Source: United Nations Conference on Trade and Development (UNCTAD), press release UNCTAD/PRESS/PR/2008/003/14/01/08.
2 Piedras, Ernesto. ¿Cuánto vale la cultura?. Contribución económica de las industrias protegidas por el derecho de autor en México." Cámara Nacional de la
Industria Editorial Mexicana, México, 2004., p.35.
(How much is culture worth? Economic Contribution of Copyrighted Industries in Mexico) (National Chamber of the Mexican Publishing Industry)
3 Ibid, p.27.
4 ONU, "Diagnóstico sobre la situación de los derechos humanos en México: derechos culturales". 2003."
(Diagnosis of the Human Rights situation in Mexico: Cultural Rights) 2003."
5 Fuente: www.unesco.org Industrias culturales: Sector de Cultura de la UNESCO
Source: www.unesco.org Industrias culturales: Sector de Cultura de la UNESCO (Cultural Industries: Cultural Sector of the UNESCO)
6 Fuente: http://www.wipo.int/ip-development/en/creative_industry/economic_contribution.html
Source: http://www.wipo.int/ip-development/en/creative_industry/economic_contribution.html
7 Fuente: http://www.unctad.org/templates/Webflyer.asp?docID=9467&intItemID=1528&lang=3
Source: http://www.unctad.org/templates/Webflyer.asp?docID=9467&intItemID=1528&lang=3
Comparte tu opinión sobre este artículo
Comentarios